Music (C&D)
Music is a big part of our lives. Clare has sung with Leeds Festival Chorus (director - Simon Wright) since 1990, singing with many of the major orchestras in Britain.
She is also a member of St. Peter's Singers, based at Leeds Minster, and directed by Simon Lindley. She has also sung with various church choirs: currently with Adel Parish Church (conducted by Daniel!):
Daniel also for many years worked with Leeds Festival Chorus, as singing member and deputy pianist. He was the first pianist of their Youth Choir. Music is now his living: again, please follow the links below to find out more.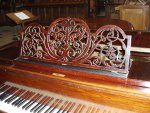 Performance notes:
: guidance for musical performers - simply some hopefully practical thoughts on various aspects of being a performer - stagecraft, confidence, different methods of practising, etc. Mainly but by no means solely at soloists.