Clare's Crafts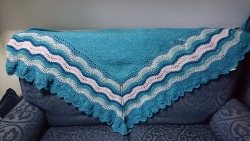 Half hansel
Gorgeous squishy wool in lovely colours make a great triangular shawl.
Started: 17th May 2019
Finished: 10th January 2020
Pattern
Hansel (Half Version) by Gudrun Johnston
Materials
3.75 mm needles.
J C Rennie Supersoft Lambswool 4 Ply - main colour = Azure.
Notes
Used note from robbersbride to increase size of half hansel.
21st November 2019
Finished knitting this in October, but various things have happened and I haven't had a chance to sew in the loose ends yet.
This wool is lovely to knit with and the garter stitch has made for a really soft, squashy texture.  Can't wait to wear this!
11th January 2020
Have finally finished sewing in the ends!  Now just needs to be blocked...  Should probably have increased more on set up row for border as it is a bit pulled in compared to the centre, but will see whether blocking sorts that out.
Web link: https://ravel.me/clareg/hhv
Status: Finished
Categories: Highlights,Knitting,Lace knitting,Photos required,To be blocked
Return to needlecraft highights page || Return to full list of projects