Clare's Crafts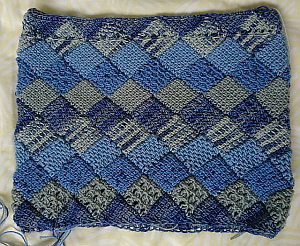 Tessellated sampler cowl
Fun with Tunisian stitch patterns.
Started: 19th September 2021
Finished: 24th September 2021
Pattern
Tessellated sampler cowl by Abbeymade.
Materials
Wild Field Fibre 4-ply mini-skein set, colourway = Sky.  5 different shades.
4.5 mm hook.
Notes
Worked with 12 blocks around.
Fine with normal crochet hook as never more than 8 stitches on the hook at once.
24/9/21
Loved working on this and sorry to finish it!  Great project for picking up and putting down.  Can see more Tunisian entrelac in my future.  It's a really good way to try out lots of stitch patterns.
Web link: https://ravel.me/clareg/tsc
Status: Finished
Categories: Crochet,Tunisian crochet,Highlights,Photos required
Return to needlecraft highights page || Return to full list of projects