Transcendent Torridon - an extraordinary sensory feast: colour, sound and pattern, ice and sun: Daniel and Clare's photos (December 2012)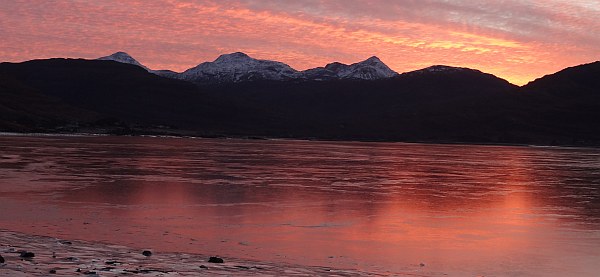 Many thanks to everyone who's made us so welcome again - Jo and Emily at Torridon Stores, the staff of the Torridon House Estate, and the staff of the Strathcarron hotel.
Also to Murdoch, Mairi and John MacDonald - it was great to see you all.
We were staying at Lochside Cottage, as we did on our previous visit to Torridon, in 2011. We thought that holiday couldn't be bettered... But this seemed even more unique: given that we don't get there very often, and particularly in winter, we'll probably never see and hear the like of this again. We're so lucky to have some recall, and a camera...
As well as the photos below, there are some recordings of the amazing noise of the sea ice moving: the recordings are rough ones but give a bit of the flavour of the whooshing slides, tinkles, smashes and cracks that were our constant accompaniment on the morning of 11th December, with fiery sunrise. Here is an example recording (about 30 seconds long, 0.6 MBytes). The little sea-ice audio page has more. There's also a writeup of the trip on WalkHighlands.
This isn't so much about walks and routes, or even history or the hills themselves, but rather a sample of what we saw over a few days of a winter in Torridon - brilliant, vivid times, which we felt priveleged to witness.
Please e-mail any requests or comments about this site to us at our home address, if you have it. Otherwise please use Daniel's university address, D.R.H.Gordon@leeds.ac.uk. Thank you.
This web site is written and maintained by Daniel Gordon, and hosted by United Hosting. [© D./C.G. 2023]